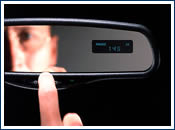 According to Gentex Corporation, their auto-dimming mirrors are now available as an option on all 2009 Honda Civic trim levels sold in European Union countries.
"We continue to be pleased with our growing relationship with Honda," said Gentex Senior Vice President Enoch Jen. "The Civic is one of the best-selling vehicles in the world. Making Gentex auto-dimming mirrors available in the European Union market on the Honda Civic could be the impetus for additional cooperative partnerships in other markets offering the Civic and also on other Honda models."
Gentex auto-dimming mirrors are no longer simple reflective plates of glass in a plastic housing, rather they enclose and hide a sophisticated array of sensors, advanced features and displays that create a new category of devices that enable crash avoidance safety features.
Other Auto-dimming mirrors are from :
A cheesy $50 version that clips onto your existing mirror and plugs into cigarrette lighter from GaragePro 
A nice 'generic' one from CIPA that mounts onto  onto both domestic wedge bases and foreign camlock bases