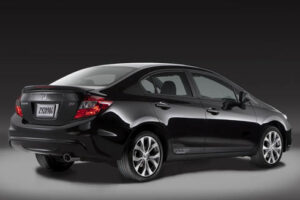 The 2012 Honda Civic has been far from a critical or sales success. Critics express their displeasure with words and buyers have been expressing their displeasure by not buying Civics. During an interview at the Tokyo Motor Show, Honda CEO Takanobu Ito accepted responsibility for the poor performance of the Civic and vowed that his company would improve the car in the very near future.
U.S. sales of the Honda Civic are down 14.8% from last year's mark, through the first ten months of 2011. Granted, inventory levels were down due to the twin disasters in Japan, but the Civic is showing no signs of life now that inventory levels are close to pre-disaster levels. Given that caveat, Honda's design team admits dropping the ball and that the Civic's current design is "dull and uninspiring."
Honda creative director Yoshinori Asahi was recently quoted as saying," In the past few years the cars have been a bit boring." Ito attempted to explain the lack of new design features by blaming market research that indicated Americans would accept more cheaply made cars during the recent recession, if they were fuel efficient. The company should seriously consider firing the group that performed that market research and examine their own inability to consider that the economy could turnaround before the 2012 Civic hit dealer's lots.
Honda is hinting at a dramatic change for mid-cycle in 2013. A near complete redesign was scheduled for 2014, but sales for the Civic are so low and complaints so common that Honda has bumped that up a year. American Honda President John Mendel said that the company has been " appropriately energized" to update and revamp the Civic.
The 2012 Honda Civic is being further crippled by its competitors. Ford, Chevrolet, Hyundai, and Kia have all released cars in direct competition with the Civic, but their offerings include updated tech features and, in some cases, better fuel economy. Given the current market, Honda needs to get something done quickly or the iconic Civic may need to be shelved.