Ferraris, Maseratis, and Porsches make you your pulse rate go up and the hart start racing, but the money in the near or even mid-term future is barely enough for a decent family sedan… Why go for a typical yawnmobile when for your dollar you can have a ride to take you anywhere at the speed of lightening? Yes it is the current generation of Honda Civic Type R ready to match the bill!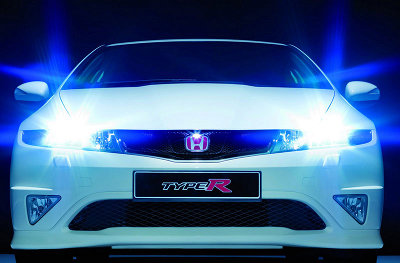 Just start the engine and as the revs will rise, you'll understand why this vehicle has legions of fans that would not trade it for anything else. This extreme version of the popular Civic comes loaded with features to create a driving experience like nothing else.
It makes a statement with its stunning original styling: sitting low to the ground showing off its seductive and yet aggressive lines, with a black mesh grille setting the tone for performance.
It looks smart and brings to mind the long years of victories of Honda in racing competitions. Moreover, in 2008 Type R won the 2008 Wheels Automotive Design Award outclassing some of the very serious competitors, such as Audi R8 and TT; Saab 9-3 Cabrio and VW Eos.
And it does have plenty of power to back up its looks. It comes equipped with a powerful 2.0 liter engine with i-VTEC variable timing controlled via a fully electronic throttle system producing 201 hp and 193 Nm of torque at 5600 rpm. The close-ratio gearbox helps effectively transform all the output into the thrust sufficient to race through time and space. In addition an advanced Limited Slip Differential (LSD) helps it maximize traction and prevent wheel slip during tight turns.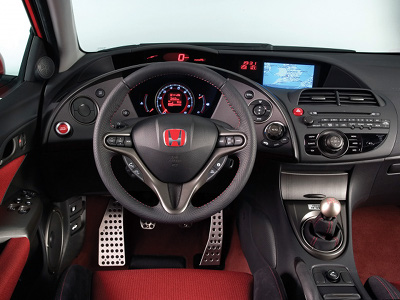 To sum it all up, the Civic Type R drives as good as it looks, with a handling capability that very few cars in this category can match. Its tight suspension builds emotional involvement from your part, making the process of negotiating the curbs a dream that so many folks are after. And all of that for only 9.3 liters per 100km – a number that looks very well comparing to the similar-sized cars which are not built for racing performance. So why look anywhere else, when Type-R is the way to pump in plenty of adrenaline without going financially broke?