Quite a few folks are interested to see how the new Civic performs on the road. Honda fans have always been fond of the hot-tempered power trains employing racing technologies that Honda was famous for.
Well let's look at all the new upgrades. The main distinction is that now Civic has a 5-step automatic transmission in stead of former 6-step robotized gear box. This transmission is very basic, has the low sectors like "D3", "2", and "1", but no "sport" or manual modes.
An upgrade from the side of power trains is that the basic engine – 1.4 l (95 hp) is a little cleaner with 12 hp greater output. A 1.8 engine with the output of 140 hp continues to be the sought after modification. Trying it on the roads it soon becomes obvious that hat this engine performs more than adequately in all the situations. But one would not go bananas over the way the vehicle with automatic transmission accelerates. The steps of the automatic gear box are outstretched – you may reach the speed of 37 miles per hour on the first gear, 65 on the second, and 105 on the third.
With all that said, the handling for the Civic is above reproach. It follows fanatically all the slightest turns of the steering wheel, and the higher the speed is, the greater confidence Honda gives you of the fact that you are in control. The precise neutral cornering ability makes negotiating curbs a dream! It is just a little stiffer then the previous Civic even though the dealers affirm that the suspension hasn't undergone any changes. It could be that the replacement of the robotized transmission with the automatic one added the additional 118 lbs to the front of the car….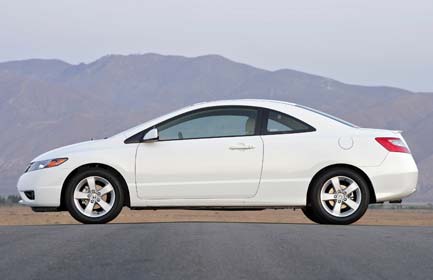 The interior is dead silent. New weather strips keep the road noise down. VDC stabilization assistance system engages itself only in extreme situations, allowing for some sweet wheel slip.
To sum it all up – the new restyled and modernized Civic is roughly 4 % more expensive than its predecessor. There is certainly no doubt that the automatic transmission will perform well. But if it was for us to decide, we would pass the offer on both robotized and automatic transmissions, as the real Honda should come with a stick.